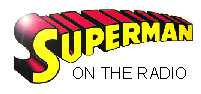 In 1938, Jerry Siegel and Joe Shuster created the hero who would come to be the most recognized fictional character ever - Superman!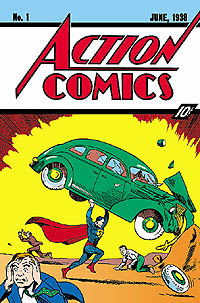 Superman debuted in Action Comics #1. (A new "Millennium Edition" reprinting the entire issue is now available from DC Comics for $3.95) Within two years of his comics debut, Superman was taking over the radio airwaves.
On February 12, 1940, a syndicated Superman series began on radio. The series ran 3 times a week (Mondays, Wednesdays, and Fridays) for 325 installments until its final broadcast on March 9, 1942. Six months later on August 31, 1942, Superman returned to the airwaves for a lengthy daily run on the Mutual Broadcasting Network. Click here for an ad.
The Superman radio show introduced characters and concepts that wouldn't be seen in the comics for years. Perry White, editor of the Daily Planet, was a creation of the radio show. The first team-up of Batman and Superman occurred on radio in 1945, long before they ever met in comics.
---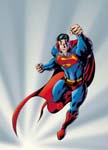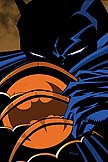 Batman and Superman: The World's Finest Super-Heroes!
Superman and Batman had been pictured together on the cover of New York's World's Fair Comics #2 in 1940 and were regularly features on the covers of World's Finest Comics, they didn't meet in a comic book story until they appeared with the Justice Society of America in a single panel of All Star Comics #7. They learned each other's identities in Superman #76 (though they had shared that information on radio six years earlier during the follow-up to the Scarlet Widow and Atom Man serials [1945]). Superman and Batman finally teamed up in a regular feature beginning in World's Finest Comics #71, when a page count reduction necessitated combining their previously separate features. (A Millennium Edition reprinting the issue is now available.) The Superman-Batman-Robin team would continue as the lead feature for more than 250 issues, with Jimmy Olsen often serving as a fourth member of the team as he had on radio.
---
Kryptonite and K-Metal
In June of 1943, Superman first encountered his deadly Achilles' heel: KRYPTONITE. He did not encounter it in a comic book, but rather on the radio show. While interviewing Dr. John Whistler, head of the astrophysical division of the Metropolis Museum, Clark Kent is rendered unconscious by the rays of a green-glowing meteorite. As explained by the narrator, Jackson Beck:
"Superman for the first time in his life faces an enemy against which he is entirely powerless. That enemy is a piece of the planet Krypton - kryptonite, it is called - which, a few days ago, struck the Earth in the form of a meteor. A full understanding of his danger came to Superman when he approached the kryptonite for the first time. As he came within five feet of the mass of metal, which glowed like a green diamond, he suddenly felt weak, as if all his strength had been drained from him. Several experiences of this kind convinced him that here was an enemy far more deadly than anything human. Somehow he must find a way of protecting himself against it. But how?"
In a long-lost radio episode that survives only in script form, the Man of Steel arranges a secret midnight meeting with Dr. Whistler. The scientist reveals that he studied the planet Krypton and its civilization through the museum's giant telescope thirty years before. Approaching the meteorite, the Man of Steel becomes disoriented and sees a vision of the alien civilization of his birth. Through the mists of forgotten memory, Superman for the first time recalls the planet Krypton and the spaceship that propelled himas an infant to a new life on Earth. Dr. Whistler promises to keep secret the existence of the meteorite and locks it away in the museum's lead safe.
Kryptonite became the bane of Superman's existence on the radio series, but wasn't introduced in the comics until 1949. Over the years, various forms of Kryptonite appeared (red, gold, white, and blue), each having different effects.
The original concept of Kryptonite was developed by Superman's creator, Jerry Siegel in an unpublished 1940 comic story. Siegel's 26-page script told of the Man of Steel's first encounter with "K-Metal," a green-glowing fragment of Krypton that stole Superman's strength and gave temporary super powers to ordinary Earthlings.
Kryptonite returned in 1945. At the conclusion of "Dr. Bly's Confidence Gang," Clark Kent notices an article on the front page of the Daily Planet that began his greatest radio adventure. Kent reads an obituary for Dr. Whistler. The deadly meteorite falls into the hands of the Scarlet Widow, and Superman's arch enemy Der Teufel ("The Devil") eventually obtains one of the stolen fragments and returns to Occupied Germany, determined to create a deadly Atom Man whose veins will flow with radioactive Kryptonite.
---
Cast members:

| | |
| --- | --- |
| Clayton "Bud" Collyer | Clark Kent/Superman |
| Joan Alexander | Lois Lane |
| Jackie Kelk | Jimmy Olsen |
| Jackson Beck | Narrator, Beany Martin |
| Julian Noa | Perry White |
| Matt Crowley | Bruce Wayne/Batman |
| Ronald Liss | Dick Grayson/Robin |

Several cast members would do several supporting characters as well.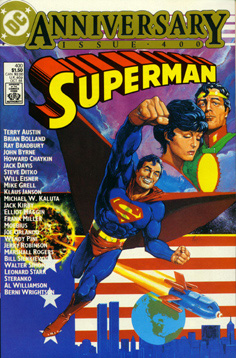 Ecce! Sursum caelum! Est avem! Est runcinam! Minime! Est Magnificusvirum!
Can you guess what the Latin phrase means?
Superman published by DC Comics
Episodes available:

The Baby from Krypton (script) - February 12, 1940 - Note that the spelling of Kryptonian names has changed since the episode aired. Jor-L and Kal-L have now become Jor-El and Kal-El. The Meteor from Krypton Chapter 1 (RealAudio) - Sept. 24, 1945 - Clark learns of the death of Dr. John Whistler, the man Superman entrusted with Kryptonite, and begins to fear that he might be destroyed. The Meteor from Krypton Chapter 2 (RealAudio) - Sept. 25, 1945 - A repeat of the origin of Superman, and the return of Kryptonite.
---
Last update: 9/28/00